A CHARISM RECEIVED, AN INHERITANCE SHARED (Continued)
2011-12-06


The Strength of Growth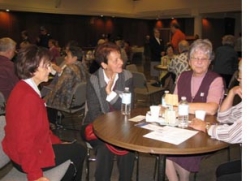 When we consider the calls to participation, we can mention the choice of the delegates among the associates on the occasions of the special times of the Congregation, such as the general chapter, the yearly meetings of the religious and the regular reunions for enrichment. These times of spiritual and apostolic reflection are, for the Associates as well as for us, times of interiority necessary for a life of communion in the Church. The sowing of the seed bore abundant fruit. We are astonished, as religious, to walk side by side with witnesses who enrich their lives everyday with words and acts of an evangelical nature by their quality of being and their way of being in communication with others.
This is a means of evangelizing through "who we are", as a way of doing as did Jesus and Mary. Over the years, the Associate writes her/his own page of the gospel and transmits the heritage of Elisabeth Turgeon. The Good News is marked as R.S.R., where people have been touched by the grace of the charism, in Canada, the United States, Honduras, Peru and Guatemala.
Confidence in the Future
This year, the 258th anniversary of the Organization of Associates, what are the challenges to be faced?
Continue to earnestly welcome others, irrespective of differences in the expression of faith, of differences in cultures and religious formation.
Encourage co-responsibility in the transmission of the evangelical message, according to the modalities found in the vast field of Christian education. This becomes an invitation for furthering creativity under the influence of the Spirit.
Remain in contact with youth through prayer and sustained interest shown them, helping them to quench their thirst for happiness. Act as Jesus did in the midst of children, loving and blessing them.
Always go forward, using adapted means for the accompaniment of Associates, remembering new methods which encourage direct communication over long distances.
Find new ways of recruiting members.
Remain vigilant in the formation of leaders who could become agents for spiritual and apostolic growth.
What will become of our future? Our faith in Providence helps us to hope for the future for the transmission of our heritage while relying on the words of our Foundress:
"Be confident in divine Providence
who makes all things
turn to the greater good of those chosen!"
(Elisabeth Turgeon, letter to Louise Cauchon, August 18, 1880)
Lisette Lepage , R.S.R.
(Article written for the periodical: « En son nom », nov. déc. 2010)