FROM ONE CHAPEL TO ANOTHER IN THE CONGREGATION
2011-12-06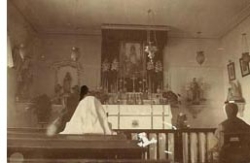 September 18, 1875, Bishop Jean Langevin invited three Sisters of the Little Schools to his chapel for the celebration of their "taking of the habit". They were: Louise Turgeon (Marie-de-la-Passion), Elisabeth Turgeon (Mary Elisabeth) and Apolline Gagné (Marie Joseph).
August 23, 1876, there was a second celebration as original as the first. It took place in the small oratory of their convent. Canon Edmond Langevin with Father Alphonse Carbonneau, deacon and the bishop's secretary, presented the religious habit to Sisters Amélie Plamondon (Marie Jeanne-de-Chantal), Emma Bélanger (Marie-du-Sacré-Coeur) and Alvine Turgeon (Marie Joséphone).
In July 1877, Canon Edmond Langevin had gone to Rome and while there he obtained the authorization from the Holy Sea to have a chapel in the residence of the young community. Thus, on November 15, 1877, he placed the Eucharist in a tabernacle in their home.
After the seminary burned in April 1881, the sisters left the "old church" which had been their home to go to a house belonging to the Langevin family, leaving the "old church" to the seminarians. In the Langevin house, though the rooms were small they found one that would be used as a chapel. On April 20, 1883 the sisters returned to their home in the "old church". There they brought down a few walls and made a chapel of a convenient size. The missionary sisters, coming home for the summer vacation, were happy with it.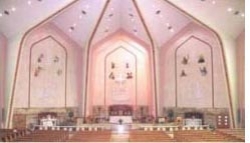 Years went by. It was time to leave the "old church" to go to their permanent home. November 18, 1907 they entered their new home on the hill. The house was not completely finished and the locale that would be the chapel was temporarily used as a "workshop" by the men who were finishing the interior of the house. Though the room was available for the community in 1909, the chapel was not entirely completed until 1916. It was inaugurated the first Sunday of October of the same year. It coincided with the 25th anniversary of their name change: from Sisters of the Little Schools to that of Sisters of Our Lady of the Holy Rosary.
As more members joined the community and changes occurred in the Liturgy after Vatican Council II, The Sisters of the General Council, decided to build an larger more appropriate Chapel. It was finished and inaugurated November 1959 by Bishop Charles-Eugène Parent, the 5th bishop of Rimouski.
Wherever the Sisters of Our Lady of the Holy Rosary lived as they realized the "mission" of the Institute, there was always a little chapel. It was where they met HIM as he supported their mission of Christian education of youth as did Elisabeth Turgeon.