THE KITCHENS OF YEARS AGO? THOSE OF TODAY?
2012-04-03


The Sisters of the Little Schools in 1876, faced the problem of setting up a stove in the "old church", their home lent to them by Bishop Jean Langevin. How does one go about the task when there is nothing to work with? They called upon their ingenuity. A pipe covered with discarded sheet metal placed all along the long corridor was added to the chimney.
Naturally, they needed a table. A large panel of planks joined together was held in place by trestles. Another table made up of two rough planks and an old trunk cover set on a stump, became the cook's working table. The meager daily menu was as poor as the kitchen: potatoes to which a few herbs or lard was added, brown bread and the liquid from grilled barley was their beverage. This same barley would then be added to the oatmeal which was their supper.
After lending their home to the seminarians (their boarding school had burned) for two years they returned in 1883. Again they made an appeal to their imagination to find sufficient food and means of heating their building. In 1892 Canon Omer Normandin generously bought them a big stove at the cost of $125.00.
November 18, 1907, they moved to their new home the present mother house. Again the cooks had to make do with a temporary kitchen. The inauguration of an adequate working kitchen took place on October 20, 1930. Twenty-seven years later, 1957, they would finally have a more spacious, functioning kitchen with modern appliances of the day, that was the joy of the head cook and her aides.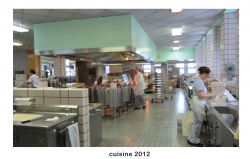 Finally, the last changes were made in 2011 as part of the renovations of the mother house. It is a kitchen with modern appliances of the day: dish-washers, walk-in refrigerators, large ovens and big kettles. The floor is practical tiles easy to keep clean.
Bishop Langevin would never have recognized the place and would have looked in vain for sisters in veils. Over the years they have been replaced by competent lay cooks and chefs who prepare our meals with diligence, variety and love to feed two hundred twenty-five sisters in the mother house, three times a day.
It is important that we render homage to all the sisters who, over the years, had taken charge of the kitchen as head chef and assiduous helpers. They oftentimes worked under difficult conditions, and sometimes lacked basic produce. The work was not the same for all, but in every area we find the same diligence, care for the health of the sisters, much generosity, dedication and long hours of work. It is also important to take note of their ability to work well with what they had, for they worked marvels. The archives carefully remember them and we will always remain grateful to these sisters, many of whom we knew well.